"Hamilton" or "Jamilton"?
The hit musical "Hamilton" has a masterpiece of an album. Here are my top five favorite songs!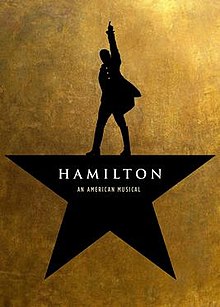 On Jan 20, 2015, a new musical titled "Hamilton" about Founding Father Alexander Hamilton first hit the stage. At first glance, watching a nearly three hour long show about a historical figure might not sound like an entertaining way to spend time. However, this skillfully crafted masterpiece of a theater production by composer and actor Lin-Manuel Miranda has stolen the hearts of many. The popularity of "Hamilton" skyrocketed once again after streaming service Disney+ released a filmed performance of it on July 3, 2020. 
Even though I first watched "Hamilton" several months ago, the soundtrack is constantly present on my playlist. The expertly composed lyrics and music are arguably the best part of the entire musical. They are jam-packed with both information that is relevant to the plot as well as with a phenomenal amount of emotion thanks to the talented actors and actresses who gave voice to the lyrics. There are a whopping 46 songs on the soundtrack, but I've narrowed down my personal top five favorites, in no particular order, on this list. 
Sung by Phillipa Soo, "Helpless" tells the story of how Eliza Schuyler met and married Alexander Hamilton (Lin-Manuel Miranda). Soo, who plays Eliza, sings about the moment when her character knew that she was in love with Hamilton. As soon as she saw him walk into the room, Eliza essentially called "dibs" on Alexander, and her sister, Angelica (Renée Elise Goldsberry), set the two up. The rest of the song describes the whirlwind courtship between Eliza and Alexander, and is cleverly tied up with the familiar tune of "Here Comes the Bride" as the two are married. The refrain in "Helpless" is incredibly catchy, which makes it nearly impossible to get the song out of your head, though I can't imagine why you would want to!
"Guns and Ships" is a spotlight song for Marquis de Lafayette, who is played by Daveed Diggs. The song starts out with the same introduction that is first present in the opening song, "Alexander Hamilton", but soon launches into a high-speed rap about Lafayette's role in the Revolutionary War. According to Screen Rant, Diggs raps at a pace of 6.3 words per second during the fastest verse of "Guns and Ships", which is impressive enough as is, but becomes even more so when one considers the fact that he raps in a French accent! 
The intense, quick rap that is "Guns and Ships" greatly contrasts the ballad that is "Dear Theodosia". Sung by Aaron Burr (Leslie Odom Jr.) and Alexander Hamilton, it is a sweet lullaby to their beloved children. Burr sings to Theodosia, his newborn daughter, and Hamilton to his son, Phillip. They each individually tell about how their children have changed them and how they plan to be the best fathers that they can be. Coming together in the refrain, they sing about how they will do whatever they can to make the new nation a safe place for their children in the future. The lyrics "you'll blow us all away" are artfully used multiple times, foreshadowing the song "Blow Us All Away", which is sung by Phillip Hamilton (Anthony Ramos) later in the show. "Dear Theodosia" is a beautiful, soothing song that provides a moment of peace in the midst of many spirited, high-speed songs. 
"The Reynolds Pamphlet" is unlike any other song on this soundtrack. Somehow, it takes a devastating setback in Hamilton's career and turns it into an absolute banger of a song. It's somewhat like the 1700s version of a diss track, because Thomas Jefferson (Daveed Diggs) and James Madison (Okieriete Onaodowan) are quite literally "spilling the tea" on Hamilton's misdeeds (Yes, I just made a Revolutionary War joke). While it does generate some pity for Hamilton, you can't help but dance along with Jefferson and Madison as they celebrate Hamilton's fall from grace. 
"Burn" is a direct segue from "The Reynolds Pamphlet", and it begins by pulling at your heartstrings through the playing of a melancholy harp melody. This song is performed by Eliza Hamilton, alone, as she holds a pile of letters and begins to set them ablaze. This is her reaction to the events described in "The Reynolds Pamphlet". Though it is a slow ballad, actress Phillipa Soo captures the attention of every listener with her quiet power and raw emotions. Thanks to Soo's immense vocal control and skill, the audience can, for the first time, get an idea of what Eliza Hamilton was feeling despite the fact that she burned all of the painful evidence. Unlike many other songs on this soundtrack, "Burn" is neither upbeat nor the type of music that one would get up and dance to, but it is certainly impactful and undoubtedly one of the most memorable. 
Bonus Songs!
"You'll Be Back"/"What Comes Next?""/I Know Him" 
Despite the very limited amount of time he spends on stage, King George III (Jonathon Groff) is undeniably a consistent audience favorite. King George III himself is an extravagant character, always appearing on stage while decked out in lavish robes of velvet and furs. He sings in a total of three songs, and in each one, he addresses the colonists and questions their decisions. His songs convey his arrogant sense of self, but in a comical way, and there are lyrics like "I will kill your friends and family… to remind you of my love." Despite his slightly murderous approach to things, King George III is an loveable presence on the stage, and his few appearances provide a bit of humorous relief from the intense plot line. 
There are many other fantastic songs in this musical, and you may find a few gems that are not included on this list! "Hamilton" is a great way to spend a few hours of your time while exposing yourself to some U.S. history, as well as to a diverse, expertly-crafted musical soundtrack.