Dear ALHS Staff,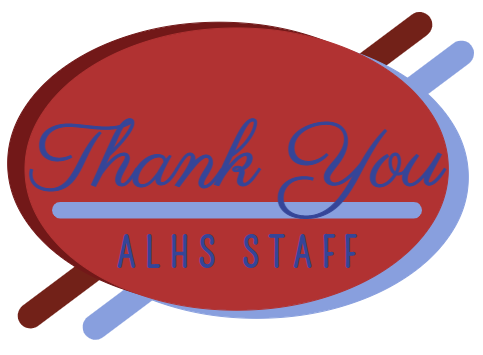 The last few months have been stressful for everyone. No one has had it easy. As a senior applying to colleges, preparing for ACT testing and taking college courses, it's no easy feat. We have been looking forward to our senior year since 8th grade. We saw the seniors with their cool senior lockers and it seemed like we would never be them. Truth is we will never be them because of everything we have gone through in the last few months due to Covid-19. We don't have senior lockers, senior year homecoming, spirited spectators at sporting events, or anything that would cause the typical senior year excitement. With everything that we have been looking forward to canceled or postponed – anything that seems normal – we can't help but be disappointed. 
The one thing cheering us on, other than the clock counting down our school days, is the people who have made this all possible – the staff of Albert Lea High School. The ones who have watched us grow and gain an immense amount of knowledge and life lessons; everything from algebra to the pacer. They have taught us so much, encouraged us to believe we are capable of more than what we think and have, overall, made us better people. I know I wouldn't be graduating (in 157 days) as the person I am today if it wasn't for all of my teachers and staff along the way. 
We know that now more than ever it is difficult and challenging to be a teacher. Teaching by itself is no easy task, let alone in the middle of a pandemic. Despite the constant changes and stress from the current conditions, our teachers are continuously doing all in their power to have things seem as normal as possible. 
Thank you to our teachers for taking the time out of your busy days to reach out to us, to make sure that we are understanding the material in class. 
We thank you for being available to ask questions before and after school, and for responding to our emails even when the sun is down. 
Thank you for being accommodating and understanding now more than ever. 
Thank you for taking the time in class, even when it is very limited, to make us smile, to make sure we are doing good and to make us laugh. 
Thank you to the custodial staff for keeping our school clean in a time where cleanliness is a number one priority. 
Thank you to all the office workers for keeping our school running as smoothly as possible in a world of complete chaos. 
Thank you to all the coaches who are helping by creating some sense of normality in a constantly changing world. 
Thank you to our administration team for everything you do to make students feel that what they are doing matters. 
We as students may not always show our gratitude, but on behalf of the Ahlahasa, I want to say thank you to all the teachers and staff in the Albert Lea School District. Thank you for everything you have done to get us through first semester.
With the (hopefully) temporary switch to virtual hybrid, we will be looking forward to getting back into the classroom with all of you next year.