Switching Seasons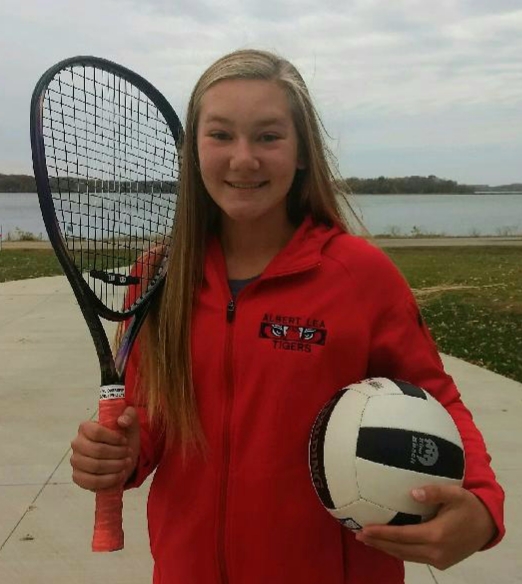 With all of the craziness going on, I was hoping for some form of normality by playing volleyball this fall.  At first the season being pushed to a fourth season in spring was frustrating. My mom brought up playing a different fall sport. I immediately thought of tennis because that's what my mom played in high school. I've always been interested in tennis, but I have never had the chance to participate due to being a three sport athlete. Given the circumstances of this year, I had the opportunity to take part in a fourth sport.
 I had mixed feelings about the idea of joining tennis. I wasn't sure I wanted to start a new sport and only be able to play for one season. After a little bit of hesitation, I put my second thoughts behind me and decided to sign up. It could possibly be my only chance to try out tennis and I didnt want to waste a great opportunity. My first week of practice consisted of some struggling, lots of learning, encouragement from many upperclassmen, and tons of fun! 
Going into it, I was very nervous I was going to be behind. I had never played tennis outside of middle school PE, so I knew it was going to be a bit of a struggle to catch up. But not once did the girls or coaches make me feel like I wasn't good enough or that I didn't belong. My tennis season has come to an end and I learned so much about tennis and my team. Best of all we had fun! 
I am very glad I tried something new and made the most out of my fall athletic season! Some of the best opportunities come from the worst circumstances. So don't be afraid to take new opportunities if they are presented. They could last a short while or a lifetime. You will never find out unless you try. Chances are you're not going to regret trying something new. This may just be trying a new sport for a single season, but it truly taught me that trying something new doesn't have to be scary or nerve-racking. It can be exciting and fun because it is! Alway have an "I can" mindset and never back down from a great opportunity.
 Unfortunately, I was unable to finish off sections with tennis. The Minnesota State High School League threw us a curve ball and allowed fall sports that had been postponed, to suddenly have a season. I had to make the decision if I wanted to continue to play tennis and finish out sections or start my volleyball season. After putting lots of thought into it, I decided I wanted to switch over to volleyball so I could get enough practice before our first match. With volleyball in full swing right now I am happy with my decision. Deep down I am leaning towards playing volleyball next fall but that decision won't take away the smiles, laughs, connections, and fun I had during tennis!