The Secret Life of Santas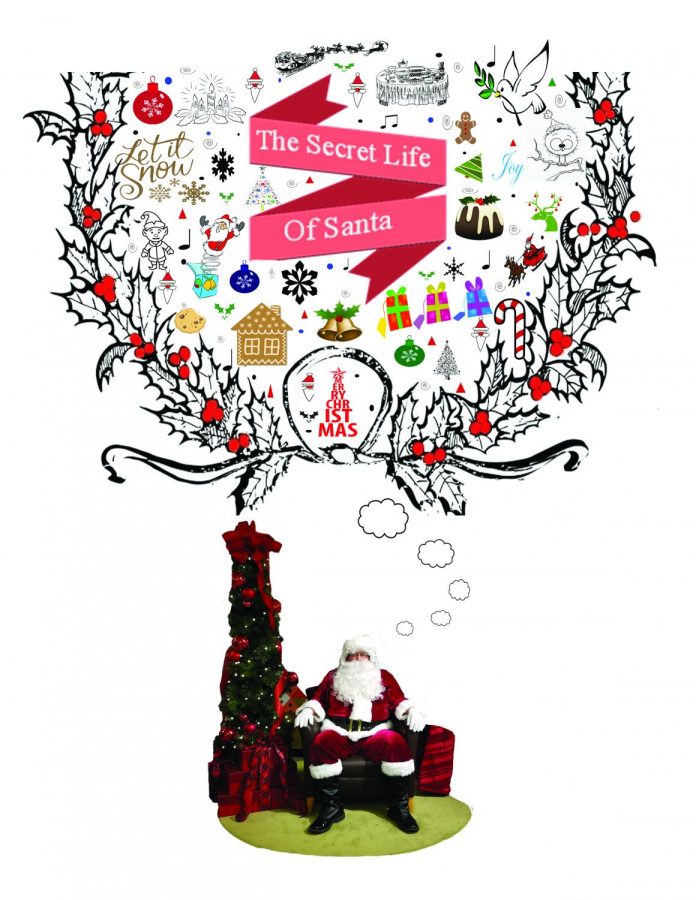 The wintery smell of peppermint, dazzling ornaments, and the flash of a camera lense capturing another Christmas memory. As children, we remember sitting on Santa's lap and thinking deeply about the puppy or video game we wanted him to bring us, or waiting for the entire ordeal to be done with so we could get the mini candy cane from Mrs. Claus.
Regardless, the experience of meeting old St. Nick at the local mall or community gathering is a staple of the holiday season for many children and even for some adults.
Being an icon, the very act of playing Santa Claus can be a difficult role to live up to. Having the perfect combination of a snow white beard, patience for young children and a grandfather-like jolliness is a must for any person looking to portray Father Christmas.
"You have to be in touch with little children and older people," said the Northbridge mall Santa Claus, Keith Alm. "You have to believe in the spirit of Christmas to be Santa."
Alm has been listening to the wishes of children and adults alike for the past 15 years as Santa Claus along with his wife who has played Mrs. Claus.  Alm has found much joy portraying such a pivotal role the lives' of all the children he meets.
"I've owned my own suit since I started," said Alm. "I'm so into the role that come January first, I almost go through withdrawls because I miss it."
During a person's time as Santa Claus it is presumable they will meet hundreds if not thousands of people of all ages. Each person who goes to visit Santa Claus will leave an impression with the person portraying Father Christmas, some experiences and encounters stick out in their memories.
"I watched a three year old kid run from cosmetics [the middle of a store] to me," said the Herberger''s FAO Schwarz brand Santa Claus who requested his name remain private. "He was yelling 'santa' the entire way."
The Herberger's Santa Claus began his role as Santa as a favor and has enjoyed it enough to continue to play the part. He has been the residential Kris Kringle for four years at Herberger's and when he is not in the red coat and black boots, his suit and beard are stored away for the year, ready for when he needs them for the next Christmas.
There are many ways a person may become Santa Claus and how connected with the role they are. While owning a suit and growing a snow white beard are further additions to the realism of Santa, the idea and true importance of Santa transcends even the person acting the part of him.
"Kids get to a point where they either believe or don't," said the Herberger's FAO Santa Claus, "but I hope to give them [kids] something to believe in."
In a world where many things are bleak and the pull of reality seems too great, Santa Claus and the very Christmas season are there to make people wonder a bit more and believe in something magical. There is joy in the lights and colors and feeling of Christmas that Santa Claus brings to children and adults that stay with people all throughout their lives, regardless of age or place in the world.
"I feel bad for the people who don't believe in Santa," said Alm. "He is the spirit of Christmas, he's far from being the meaning of it, but he has a part in the era of growing up"