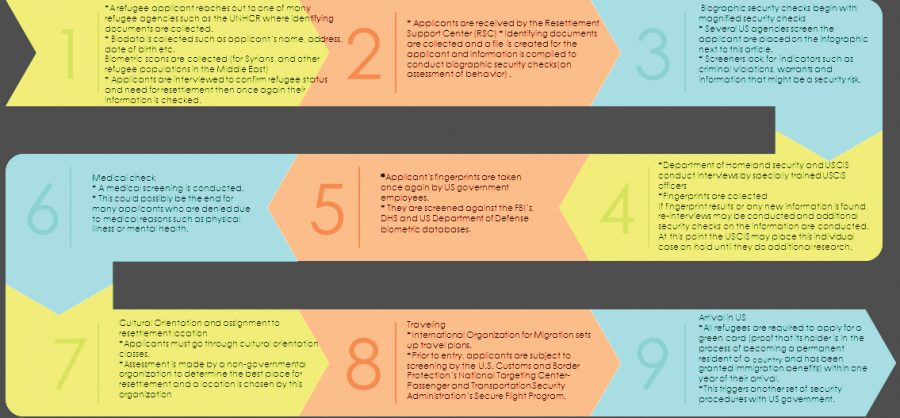 On Jan 27, President Donald Trump signed an executive order, which had the intent to bar citizens of Iraq, Iran, Libya, Somalia, Sudan, Syria and Yemen from entering the United States for 90 days, banning refugees for 120 days with the exception of Syrian refugees, which would have been banned indefinitely.
Despite this order being temporarily blocked on Feb 3 by federal judge, James Robert, many questions have been raised about the refugee vetting process.
The vetting process is complex and can be described most accurately in the steps that one must take in order to receive a green card, access into the US and resettlement.
A refugee is someone who has been forced to flee his or her country because of persecution, war, or violence. There are approximately 65.3 million forcibly displaced people worldwide, 21.3 million of those people being refugees according to the USA for UNHCR: The UN Refugee Agency, many hoping to get away from the turmoil in their respective countries.
This entire process can take anywhere from 18-24 months, but every case varies and there is no set limit of how many years it can take a refugee to be able to come to the US. At any time a refugee can be turned away.
Roughly, 3 million refugees have entered the U.S. since Congress passed the Refugee Act of 1980 according to Cultural Orientation Resource (COR) Center. 95,000 of those refugees having been relocated to Minnesota.
Along with Washington, Minnesota is the second state listed in the suit to sue the federal government in an attempt to permanently block Trump's executive order. The state is claiming the ban would hurt the economy.